Here is my story... There has been an addition into my/our lives that at the very least will make you laugh. I have not put this story in writing, to date, so please bear with me. Maybe read it on the john....

In July, I fell upon an ad on Craigslist and have no idea how it really happened. Just dinking around Craigslist. It was for a "Classic 1961 Mack Cabover Truck" that was located in Barstow. Here is the original listing, for your entertainment: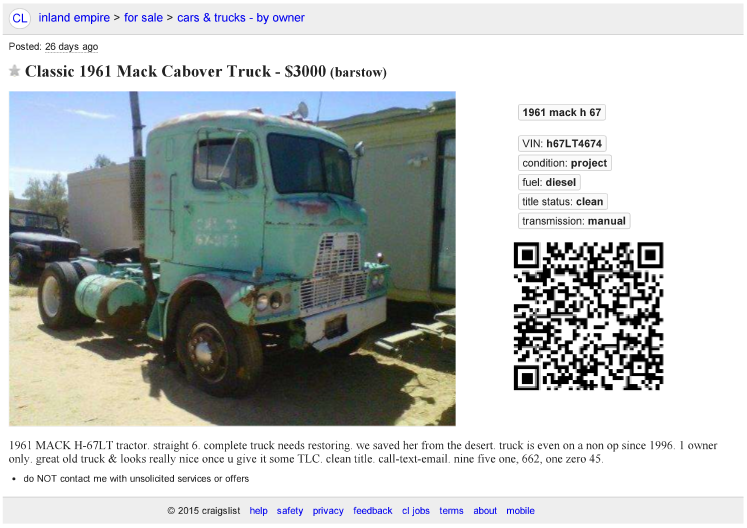 I immediately dismissed the idea of purchasing this truck that is so ugly, it is beautiful (in my eyes). HOWEVER, it kept haunting me and haunting me. I did a bunch of internet research (God bless Google!) and found that if I purchased this truck and spent another $100k, I would have a truck that was valued at $8,500! So my plan forward was to turn this truck into a rat rod. No rules, just fun! I have been watching all of these TV shows with great interest for years - Fast 'N Loud, Vegas Rat Rods, Truck U, Bitchin' Rides, Overhaulin, Cuban Chrome, and on and on. I figure if those guys can do this, so can I!

I sat my engineers in the office down and told them of my idea. All of my old guys (Jerry has been with the company for 56 years now! He has a '34 Ford 5-window coupe that I was able to see first-hand yesterday. He kept telling me of its' flaws but I was amazed at its' beauty. He had a '34 5-window as a 20-something that had Ardun heads. He should have NEVER sold that car – the heads alone are worth a fortune today. His car has Offenhauser heads and valve covers, all polished aluminum!) all agreed that this was a stupid idea (Fast forward – these same guys cannot stay away from working on this truck now!). So, against all recommendations, all very valid, I contacted "Darryl the tow truck driver" to make the deal. I asked him his best price, told him that I was aware that he had it on Craigslist for almost a year (Here is the link to the original internet story about this truck which includes a photo of the "desert find" location), and he responded $2,000. We made the deal. I now was the proud owner of an old truck.

The next step was to pick up the truck. I ended up having one of my younger guys (Juany) go out to pick it up with the cash in hand. I also had purchased a heavy equipment trailer with ramps for driving heavy equipment onto as well as a tractor with a huge onboard crane so that no matter what we would somehow, some way get the truck onto the trailer for transport. Juany took his family, two young sons and his wife for the Saturday ride to Barstow - or at least that is what he thought. Darryl said to meet him at the truck stop in Barstow and he would take them to the place where the truck was stored.

They met up with Darryl, who appeared to have missed several dental appointments (doesn't matter but it makes the story a little funnier - read on!), a tow truck driver driving an old Cadillac. Darryl told Juany that they would need to follow him about 10 miles away to retrieve the truck. Diana, Juany's demure wife, took a look at this guy and immediately started begging Juany to not take them into the desert - to be killed by Darryl (her movie, I guess!)! They went out into the desert (funny what you will do when you are being paid for it?) and our tractor-trailer driver started to become concerned that he was going to get stuck in the sand when the paved road ran out. They ended up having Darryl's girlfriend, Casandra, another tow truck driver (really helps the movie plot - don't you think?) use her truck to drag the Mack from where it was stored out to the paved road. It took her flatbed as well as our crane to get the Mack onto the trailer - but they did it. It turned into an 8 hour escapade to get this truck back to LA. Helps to have executive privilege, I guess!

So, the truck comes to its' new home and I survey my purchase and am relatively happy but uncertain about what to do. We spent a couple of days steam cleaning the truck. The seats and mattress were removed from the interior because they were just plain rotten. To this day, sand is still pouring out of this truck. There was 6" of sand accumulated in the interior! The truck was amazingly un-molested considering that it was sitting in the desert for almost 30 years. No gunshot holes, no blown out windows - just an old truck.

I made space in one of our buildings at work as my "workshop". I have air, power, and a gantry crane - all very handy. Plus I get to oversee the work when I have to do my day job.

The left rear wheel was locked up, due to the broken aluminum air chamber mounting bracket. For some reason (this was NEVER going to work) my guys decided to remove the left rear tires and brake drum. In the course of doing so, they snapped ALL TEN (not one and check it out first - ALL TEN) studs using a 1" air impact wrench. This is where we learned that they used left and right hand threads on the wheel studs!!!

In the end, it did not really matter. When we finally got the brake drum off, we discovered that the entire brake assembly was cast from aluminum and the years in the desert had disintegrated the aluminum to the point of becoming white crusty corroded metal, and useless. So I had no left rear air brakes. I don't want to mess with bad brakes - never ends well! I learned that this unit was one of 550 built with virtually no survivors. There are some conventional trucks (hood in front of cab like a "normal" truck) that shared parts but old parts are not readily available either, if at all.

The next step to consider was to buy a donor truck to harvest parts. I found a conventional truck in NY for $3,500 but the shipping costs were going to be almost the same price as the truck. Then the guy put another potential donor truck up on eBay and told me he would ship both trucks for the same price. When I responded that I was no longer interested, he gave me a word of advice. He told me that he has twelve trucks in various stages of restoration and has not finished one of them! He said he has two trailer loads of parts and how the "hobby" seems to run away. I completely understood his warning and have kept it omnipresent in my mind. I do intend, down the road, to build another rat rod using a conventional big rig truck mounted on a Dodge Ram 3500 chassis, less of a big rig truck but still a rat rod. I think that I like the Cummins diesel engine better than the Ford V-8's, especially when you hot rod them.

So how to fix the rear brake issue? I ended up hacking the frame in half and splicing a "cutoff rear end" from a 2007 Freightliner that was wrecked. I know why the truck wrecked, it was the rear brakes! The cutoff was a twin-screw so I removed the front differential, with its' air ride, and am just using the rear differential. So now I have air ride on the rear. I need to figure out how to get air ride on the front - which currently weighs around 6700 lbs. due to the 673 engine (4000 lbs +). I think that we will build our own 4-link with a panhard bar or sway bar off of a F-650 or F-750. There is a guy in Iowa (Kelderman) but they have not shown much interest in helping me.

The final drive gear ratio changed but I have calculated that the top speed went from 67 mph to 84 mph. The truck has a duplex transmission, a 5-speed and a 3-speed yielding 15 speeds. The original engine has a maximum rpm of 2100. I'll bet I will drive it like a 5-speed because there is really no weight to carry.

I originally dreamed of putting a pickup bed on the back so it would be a funky pickup truck. I found a 59 Chevy pickup bed in La Habra for $300. Just sides and fenders but the width of the truck would make the front bulkhead and tailgate useless anyway. The inside width of the bed went from the original 50" to 75"! It was almost wider until I realized, just in time, that there is a federal maximum width of 102". I kept it at 101"!

Jerry and Juan (Juany's dad) started working on the engine. It is an 672 cubic inch (11 liter) naturally aspirated diesel engine that is called a 673 for some reason. We flushed the oil system with hydraulic fluid and then replaced the oil and changed the multiple filters that are used for big rig diesel engines. The engine cranked freely – AFTER 30 YEARS of sitting in the desert! I guess desert living really is better for your health! When they cranked it, two birds blew (notice I didn't say "flew") out of the stack. The good news is that the engine was not seized.

The trucks electrical system was weird too. Two sets of batteries, not unreasonable for a diesel, even today, but the electrical system throughout the truck is 12V but the starter is 24V. There is a paralleling relay that reconfigures the batteries during starting for extra power for the starter. A spring broke inside the starter that held one of the brushes. I asked to have the starter rebuilt locally and have it converted to 12V. Jerry said there was no way it could be done. I had just seen an episode of Mobsteel where they did something like this so I asked him to proceed. Sure enough, the guy at the rebuilder asked if this was off of an old fire truck because he sees these all of the time - and almost always converts them to 12V! Ha ha! Now I have a pure 12V electrical system.

The engine started on ether but there was no fuel flow from the injection pump. We decided to have it rebuilt. I really want to run the truck on the original engine and then swap engines somewhere down the road. The rebuild has been harder than originally thought because there are just not that many guys around who have any experience with something this old.

The hope is to get the truck back on the road by July, one year from the date of purchase. Don't know if that is real or not. I think it will be more fun to get it running and on the road and then change things later.

We set up a web site to chronicle the progress of the build. There is a slide show with pictures. The web site is MackRat.com, same as the license plate. Speaking of license plates, I use a car buying broker for the company who also specializes in DMV matters. He was able to get the truck registered with the DMV as a pickup truck, 15,000GVW, so I don't need a commercial drivers license to drive it nor does it need to comply with air quality rules (it won't!) plus it is a California Historical Vehicle. Hilarious to me!

The pickup bed fenders really did not fit well over the rear wheels and tires so we ended up stretching the bed 7". I bought an English wheel and my guys adopted it very well to replicate the form of the fenders. Next step is to figure out how to replicate the patina. I have no intention of painting this truck pretty. Pretty on a pig is still a pig! I will use hot rod wheel well tubs, either purchased or hand made with the English wheel for the tubs in the bed of the pickup. I found a place in Kentucky, that makes bed wood in all sorts of wood varieties. I wanted something special instead of pine or oak and bought Dark Walnut that is 7" longer than a short bed as well as polished stainless bed strips without exposed hardware. It should look real nice inside the real ugly bed. More yin and yang!

The internet has been a wealth of information. I discovered that people had tried to turbo charge the 673 engine, only to have it fail within 1000 miles - without oil ring cooling, they lock up. This is off of my list! I can learn how the air brakes really work so that the springs inside the air chambers don't kill me or my guys. On and on, there is no limits to what people post on the internet. It has been a great resource!

Mack has a historical museum that sent me the build records as well as the original Operation and Maintenance Manual for my truck. The truck was originally sold to a guy in Torrance so it has most likely been a yard-truck. I think that the original buyer is still alive and living in Carson but I really don't want to bug him. The truck is a 1961 model but it was built in November, 1959.

The truck was originally blue and I could not figure out how Mack thought that this green was blue. EVERYTHING is painted green over red over white. I have not seen any evidence of what I think of as blue. When we removed the front grill, the blue appeared. It was a dark blue. I like the green patina much better. I plan to bring more patina up using either rubbing compound or 600 grit paper. The roof is caved in a little but we will push that out when we get to the interior.

I am lucky in that I have a ready, willing, workforce to draw from as well as my old guys that have really fell in love with my dream, ugly as it is!

I had business cards printed so that people can remember the web site. I gave one to my doctor after I sprained my ankle while in La Quinta for Thanksgiving (Diane blames the martini, I blame the gutter!) a couple of weeks ago. He could not stop laughing. I told him that he was either going to commend me or commit me! He replied that he commended me! I saw him this week and asked if he saw the web site. He had and is still laughing. I laugh at this process all of the time. It has been great fun. I get to buy a bunch of big tools – the smallest socket on a truck frame is 15/16" and don't bother with a 3/8" impact wrench – nothing happens! 1/2" and 3/4" impacts rule but the air impact wrench gives me carpal tunnel pain from holding it. Getting old!

I'm starting to think about the interior since the pickup bed is nearly done. I have purchased Escalade seats, in pretty good condition, since they have embedded seat belts. It is better to have the belts on the seats that are on air ride bases instead of the belts attached to the floor where the belts cut you in half at every bump! Plenty of planning and engineering - which I thoroughly enjoy. I want to use a 18" touchpad for the instrument gauges as well as a 25" touchscreen for the center console. I have found some hot rod generic electrical harness that I think will make the wiring job pretty easy. But then there are the air lines that will need to be installed. I have two polished aluminum air tanks so I don't have to rely on the 56-year old components, especially at 125 psi! Planning to install A/C from Vintage Air but need to figure out how to control it from the touchscreen. Want side view and rear view cameras.

Diane has been incredibly supportive throughout this process! She knows that I need some sort of hobby and she is happy for me. She has not seen the truck - yet. I told her a while ago that I needed to buy the bed wood, which costs $2,500. She replied that she wanted a Louis Vuitton purse. Different kind of yin and yang!

What am I going to do with it when it gets done? Drive it and show it, I guess. Everyone that I have purchased stuff from has been very enthusiastic and helpful so I think that it will be well-received. Jerry ('34 Ford) tells me that the hot rod community has been welcoming to the rat rodders so I think that we will have fun with it. Can't wait to see Diane up in there!!!

Here is a link to my Dropbox folder which has a gallery of photos with greater details than those found on the web site. Click on the picture to open the slide show. Don't want to overwhelm people on the web site!

There - I did it, I finally did it! I know this is a really long letter but I have been wanting to share my story with you guys, in particular. Please let me know if you have any comments or recommendations as I appreciate your knowledge and experience in the motorsports and hot rodding world and I appreciate your thoughts and opinions. I know that it becomes enveloping but it is just so much fun!